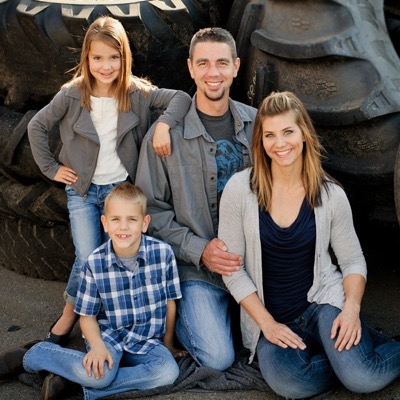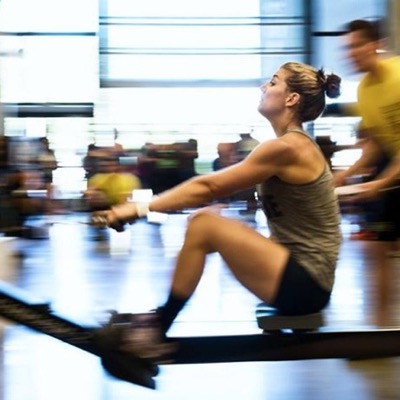 Occupation:
I am a wife, the mother of Tabin (7) and Hawley (5) and for the past 12 years a business owner and a Licensed Massage Therapist.
Which class time do you usually attend?
The noon class works best for me right now, although, depending on my schedule, I will occasionally WOD at 5 or 6PM.
How long have you been CrossFitting?
In spring of 2013, after listening to another massage therapist I work with talk about the awful, crazy, yet fun workouts she had been doing, I decided I had to try it. I began going to Victorious Fitness in Bellingham where I was given a wonderful introduction into the world of CrossFit. With each workout and new movement/technique I learned, it became very clear to me that I needed to include CrossFit into my daily fitness regimen.
How did you find CrossFit i1uvit?
My sister and brother-in-law, Chad and Kandi Baar had started at CrossFit i1uvit at about the same time I had started going into Bellingham to workout. We regularly enjoyed exchanging workout stories and comparing our personal bests. Chad and Kandi were having such a positive experience at i1uvit and were thoroughly impressed with the coaching, the facility and the CrossFit i1uvit family. In August 2013, I found myself needing to find a gym closer to home and i1uvit was my first choice. Kandi invited me to try a free Saturday class with her and shortly after I joined and haven't looked back since! September 9th was my one year anniversary at CrossFit i1uvit.
What is your athletic/fitness background?
In high school I played volleyball, tennis and fast pitch. Since then I have stayed active by playing city league volleyball, attending different fitness classes, running, and chasing my kids.
Favorite WOD:
Any "Chipper" WOD
Favorite lift or movement:
Squats of all kinds (air squats, front squats, back squats, overhead squats, wall balls, and pistols, etc.)
Least favorite WOD:
It was August 27, 2014. Thrusters (70/100) and Bar over Burpees 13/12/11/10/9/8/7/6/5/4/3/2/1 This WOD was similar to the CrossFit Open 14.5 workout but the rep scheme was different and it left me not wanting to ever get up off the floor again.
Least favorite movement:
Burpees.
Favorite life quote:
"In the end, it's not the years in your life that count, it's the life in your years." – Abraham Lincoln
Favorite "guilty pleasure" food:
Ice cream
How has CrossFit changed your life, lifestyle, and level of fitness?
There are so many answers to this question but the biggest change I have seen since starting CrossFit is in the amount of love and appreciation I have for my body now. I am so proud of what my body and I are able to achieve every day at the gym. Pushing my limits, conquering and overcoming fears, and learning new techniques on a regular basis has restored my belief in my body's ability and proved to myself that I am strong! None of these statements would have been true just a short time ago, before CrossFit. At the time I started CrossFit my body and I were not on speaking terms and there was no love between us at all! This disconnect was fueled by years of health issues which included too many doctor visits, diagnostic tests and blood draws to remember. There were so many disappointments and times of worry during those years that I was left exhausted and weak, both physically and mentally. I was lost and unsure of my body's ability to handle even the smallest of challenges we may have to face in the future. Feeling this way was foreign for me. You see, I had always been so sure of myself and optimistic that I could handle anything that was thrown my way. These self-doubts that I was feeling started to really impact my relationship with my body and we ended up "separated". Finding a way to relieve some stress and get away from my worries as well as to reconnect with my body became imperative. CrossFit was the answer. The change was almost instantaneous. After completing my first WOD, I was both surprised at what I was capable of doing and also optimistic that I could do so much more. As I continued to get stronger my mindset began changing along with it. I began to feel thankful for my body and what I was able to achieve. This sense of gratitude grew with each day and soon I was finding myself amazed at how far I had come and excited to push myself to new levels. My body is now both physically and mentally stronger that I have ever been in my life. With love and appreciation restored I know that whatever trials come my way they will be met by one strong and determined woman!
Who or what motivates/inspires you to keep coming back?
"The human spirit needs to accomplish, to achieve, to triumph, to be happy."- Ben Stein
This quote sums it up perfectly. My personal desire to continually challenge my mind and body is my biggest motivation and what keeps me coming back. With each new day comes a new WOD. The constantly varied movements and level of difficulty in each day's workout keeps me feeling excited and determined to prove to myself that I can finish it. Every day is filled with pushing boundaries, overcoming fears and slaughtering weaknesses. There is never a dull or boring moment and there is always something to work on. What isn't to love?
Another motivation for my daily return is my family. Being a positive, healthy role-model to both of my kids is one of the most important jobs I have. By my doing CrossFit, they see what can be accomplished by being active, setting goals, and working hard to achieve them. Both the kids are quick to ask me how my workout was, what weight I lifted, if it was a PR and how I felt I did. They are learning that health and nutrition are an important part of life and that taking care of our bodies as well as listening to our bodies needs to be a priority. Last but not least is the CrossFit i1uvit family. Getting the opportunity to work out with such an inspiring, motivating, supportive and strong group of individuals is a true blessing. Every day, no matter what the WOD, I know there will be a kick butt group of individuals who are ready to give 110% at the gym and their drive and determination is what motivates me and keeps me coming back.
What is your proudest CrossFit achievement?
In January 2014 I competed in and completed the Cretus Ex Duellum competition. Cretus is a CrossFit competition held at Locals Gym:
Lynnwood CrossFit in Lynnwood, WA. Up until this point in my CrossFit life I had never done any competitions outside of our local gyms. This was a huge stretch for me, but it proved to be one of my proudest moments. It was scary and nerve-racking and exciting and life-changing all at the same time. Being challenged to complete WODS with movements that I had never tried before with competitors that I had never met before proved not only to fulfill my natural competitiveness but also fuel my desire to continue on my CrossFit journey with competitions being part of the mix. I left this competition with a clear picture of my strengths and weaknesses, a renewed focus for what I needed to work on back at the gym and a sense of achievement that I had given 100% of what I had to each of the WODs I faced. I owe a huge thank you to Michael Tharp, one of the coaches at i1uvit, the "street" to my "cred" and also a great friend for encouraging me to register for this competition. You saw in me what I didn't know existed, you challenged me, uncovered my competitive nature and now I am hooked.
Name one goal/personal achievement you would like to achieve through CrossFit?
There are so many and the moment I achieve one I will add another to the list. At this time, my top goal is to get stronger in my kipping movements like pull ups and toes to bar by focusing on some strength and mobility exercises. I know…this doesn't seem like a very glamorous goal but by achieving this I will be better able to chase the BIG goals!
Hobbies/Interests outside of CrossFit?
I enjoy family camping trips in our travel trailer, going on hiking trips with my friends, having a good dinner and sharing wine with family and friends, a competitive game of front yard volleyball, sitting around a big bonfire, driving fast, riding 4-wheelers, reading and learning new things.
Any advice for new members?
"Whether you think you can, or you think you can't – you are right" – Henry Ford First, stay positive! I am not going to tell you it gets easier but it will always be worth it. Set clear and attainable goals that are your own. Record your WOD with the weights you used and your score. It is so easy to get lost in the movements that you are not able to do yet that you forget about how far you have come. Having that record to look back at will clearly show your progression and give you reason to stay focused and keep moving forward. Enjoy the process. Celebrate every PR! Smile…there is always an end to every WOD.
Any additional thoughts/shout-outs/comments:
THANK YOU to Matt and Kaylee for all your time spent and dedication to making i1uvit what it is today. Your passion for CrossFit and for our gym is evident every day and it creates an exceptional place to be. To all the i1uvit coaches, your guidance, patience, support and encouragement is appreciated beyond words!! THANK YOU!