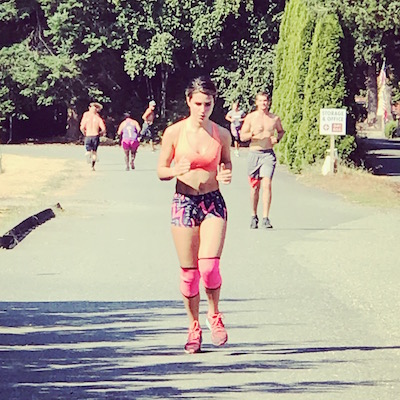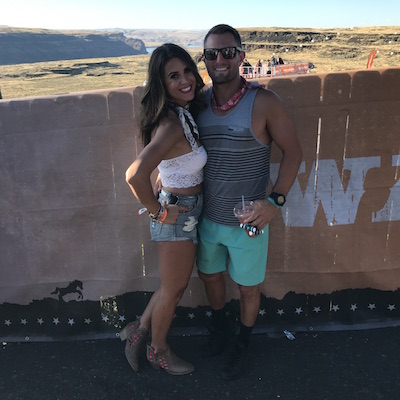 Age: 28
Occupation: Cosmetologist/Eyelash Technician
Which class time do you usually attend? 6am-6:30pm
How long have you been CrossFitting? 6 months.
How did you find CrossFit i1uvit? I found CrossFit i1luvit through the Boyfriend, he's been a crossfitter for years.
What is your athletic/fitness background (if applicable): Looking back at my CrossFit journey I don't feel I had much of an athletic background! CrossFit has changed my view of fitness. I had played some sports, attending boxing and weightlifting classes casually and lazily attended the gym.
Favorite WOD: My favorite workouts are those that require you to finish a set of something as fast as possible, preferably something with box jumps.
Favorite lift or movement: Honestly? Wall balls or box jumps, hands down. Those were both extremely difficult for me upon beginning and now leave me feeling so much stronger.
Least favorite WOD: AMRAP's are difficult for me (as many rounds as possible) but I wouldn't say I have a least favorite at all. It all makes you better in different ways.
Least favorite lift or movement: Pull-ups over 50 reps!:)
Favorite quote: This life is your message to the world, let it be extraordinary.
Favorite "guilty pleasure" food: Easy. French Fries.
How has CrossFit changed your life, lifestyle, and/or level of fitness? I would say that CrossFit has changed my life in every aspect. Not only am I stronger physically but mentally. I remember being told that inside the gym you find yourself tackling more and more difficult tasks and outside the gym you'll find yourself doing the same. I truly feel CrossFit has has changed my perception of myself. I know going into anything that I can make it work for myself. I know that leaning on others for advice isn't a bad thing. I know I can do difficult things because of the strength I've found in a healthy and productive body inside the gym.
Who or what motivates/inspires you to keep coming back? At first it was that "after CrossFit high" and now it's results. I have more energy and see the way working harder has defined my body! I want to keep chasing that.
What is your proudest CrossFit achievement? My proudest achievement would be my first Kipping pull-up. Something about that movement drove me up a wall till I finally tackled it. A coach stayed a little late with me to really nail it down. I was able to get it that night and continue progressing toward a strong kip. It isn't perfect but I know now my body can do it!
Name one goal you are working for and would like to achieve through CrossFit? I would love to get a ring muscle up! A girl can dream!:)
Hobbies/Interests outside of CrossFit? I love all things girly, hair makeup etc. I love my dogs, home decorating, family and building a new life back home in Washington.
Any advice for new members? KEEP AT IT. You will see results, your body will change and CrossFit is so so worth every ounce of sweat. Feel every movement and every rep... Your body will thank you in ways you never expected.
Any additional thoughts/shout-outs/comments: Thank you to all the coaches and all those that have motivated me to stay strong. Giving up just isn't an option in life and CrossFit has taught me that. Most of all thank you to Ari. Introducing me to CrossFit is something I'll never be able to thank you for! You are that positive motivation I've always sought after. Thank you for keeping my excitement for fitness alive and sharing yours with me. Love you.