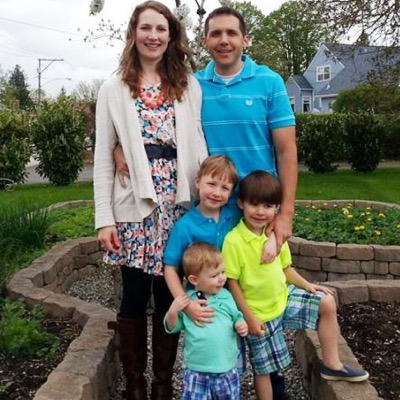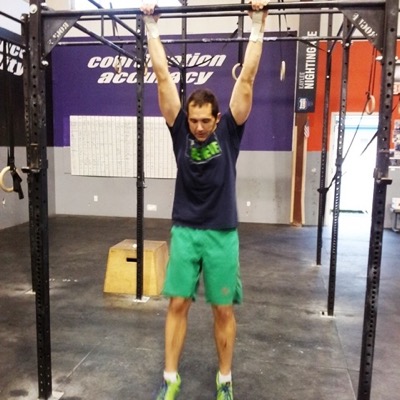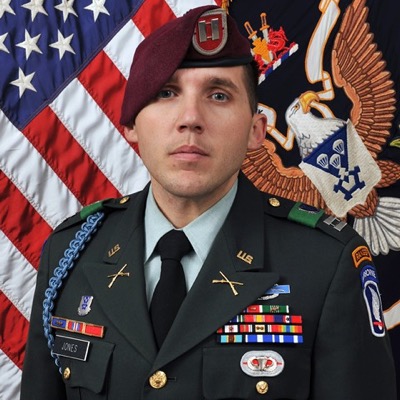 Occupation:
Commercial Real Estate Broker
Which class time do you usually attend?
Usually either 7am or 5pm, although sometimes I will go to the 6am class if I'm feeling motivated!
How long have you been CrossFitting?
This is month 11.
How did you find CrossFit i1uvit?
Kaylee (Nightengale) is a long time friend of my twin cousins and I'd run into her at various social functions. She told me that she was coaching & training CrossFit at i1uvit and that I should try it out. Here I am.
What is your athletic/fitness background?
I played soccer growing up, as well as some baseball. I still play recreational soccer, both indoor and outdoor. I was in the Army for 10 years and got a lot physical training on a daily basis; ruckmarching, running, pushups/situps, combat focused movement techniques, etc. CrossFit is as close to the Army style, daily physical training that I've found; which I'm sure is why I like it so much. It's similar in style as the workouts are structured and competitive, with challenging but realistic goals. Like the Army, physical training (P.T.) in the morning makes me feel good the rest of the day.
Favorite W.O.D.
Lt. Michael Murphy Hero WOD, it's a widow-maker. You can't fake the funk. You have to do the movements and run. No compromises or corner cutting. I wish I would have done it with a plate carrier on.
Favorite lift or movement:
T2B or Runs
Least favorite W.O.D.
This morning was pretty bad (21-15-9, 95lb Hang Clean, Lateral Bar Burpees and Thrusters)….I would have to say that any WOD that is heavy on double-unders and hand stand push-ups always makes me feel like I just started doing CrossFit (not that there is anything wrong with that J ).
Least favorite movement:
Double Unders/HSPU's
Favorite life quote:
"Very few people care about your feelings. No one owes you anything. You make a life for yourself that you can be proud of, or you don't. The only thing that matters is what your family and real friends say or think about you after you're dead."
Also, "Well done is better than well said".
Favorite "guilty pleasure" food:
Pork Rinds and Ice-Cold Beer. Like two peas in a pod. Seriously, they go perfectly together. The fried pig skin compliments the malty cheapness of beer in a can with crunchy notes of oil and salt. It's a pairing similar to fine wines and their cheese counterparts.
How has CrossFit changed your life, lifestyle, and level of fitness?
It's been a very rewarding outlet that has kept me physically and mentally tough. I'm of the opinion that it is very difficult to be unhappy for any extended period of time if you conduct vigorous daily exercise. I live my life with a physical reality that could just as easily keep me soft and passive, thankfully CrossFit allows me to strengthen my body and mind in a goal-based environment. I enjoy the group dynamic and the "take it or leave it" approach to how CrossFit works. You either show up and do it, or you don't. You can't just "go to the gym" and stand around and look in the mirror. It requires an elevated amount of commitment to accomplish the workouts.
Who or what motivates/inspires you to keep coming back?
Testing my capabilities, saying hi to everyone, feeling that endorphin high after a good WOD are all great motivators. Also, I think that i1uvit is full of really good people and I like to surround myself with good people.
What is your proudest CrossFit achievement?
Doing bar muscle ups, so far.
Name one goal/personal achievement you would like to achieve through CrossFit?
I need to master double-unders, which I'm getting close doing. Also, hand stand pushups, but still pretty far away from doing those!
Hobbies/Interests outside of CrossFit?
I'm interested in my wife and whatever she is doing. I enjoy playing, coaching and watching sports on TV. I'm a Seahawks season ticket holder and have a ton of fun doing that with my family. I have three little boys who keep me motivated and focused on family and close friends. I like music and real estate and movies….I want to ski this winter and get back into it.
Any advice for new members?
Don't start off trying to compete with others doing the WOD with you. Just try to do the movements correctly and you'll get stronger and will naturally start competing when your body has caught up. I was guilty of this. Also, I would say that nutrition is a massive part of the health equation with CrossFit. What you put in your body matters when it's time to do the WOD.
Any additional thoughts/shout-outs/comments:
A big thank you to Matt, Kaylee, Mikey, Chris P., and Coastie Chris. You guys are great at your job and you've set me up for success with CrossFit. I'd also like to thank my special lady-friend, Yoga Wife, who always asks me "How was the WOD?"!